Since day one, those who have chosen to follow Jesus have suffered as a result of their choice. There are good reasons to believe that Jesus was a pacifist, so it's sometimes hard to believe that his Church has faced nearly two thousand years of beatings, abuse, ridicule and social shame.
But then, with a history like ours, maybe that is something we shouldn't be so surprised about. Just think about it. The basis of Christianity is the cross; the death and resurrection of Jesus. Even if we ignore Jesus' warnings about the cost of following him, we can't ignore that his death indicates he was a pretty controversial character.
Killed by those who saw him as a challenge to their power base and theological understanding, Jesus' death was brutal. And since then, there's been a relentless, unstoppable flow of abuse against those who've called themselves Christians.
Here's some of the lowlights:
AD 30-33: Jesus' crucifixion
AD 33: Stephen stoned to death (Acts 7)
AD 67-68: Paul and Peter martyred under the reign of Roman Emperor Nero
AD 150: The Persecution in Lyon indicates a wider trend with mob violence, assaults, robberies and stonings directed at Christians.
AD 173 onwards: Emporer Maximinus Thrax targets Christian leaders across the empire
AD 284 onwards:: Emporer Diocletian starts the 'Great Persecution' where up to 20,000 Christians are thought to have been killed.
AD 341: Zoroastrian Shapur II orders the massacre of all Christians in the Persian Sassanid Empire, condemining 1,150 Assyrian Christians to death.
AD: 614: Jewish/Persian wars saw up to 60,000 Christians killed in Jerusalem and across the empire as Christians became caught between various sides.
Fast forward 1500 years and the last century hasn't been any more peaceful. Persecution of Christians has been on the rise, so much so that it sparked Brother Andrew to respond to God's call and begin the work of Open Doors.
Now…
Thousands of Christians are thought to be killed every year because of their belief in Jesus. One in every seven of the world's Christians live in places where they face at leats very high levels of discrimination, pressure and intimidation. It's easy to see why Christians are considered the most persecuted group on earth.
Just check out the top ten countries on the World Watch List for details on how to pray specifically for Christians facing persecution today.
Ming has to be really careful when he uses his phone. He often communicates in code. He's worried he's being watched, and that his messages are monitored. He should worry too. In China, the authorities are increasingly using technology to keep an eye on people. And it's people like Ming they are trying to find.
You see, Ming has been smuggling Bibles for a few years. He's trying to share God's Word with others. It doesn't sound dangerous to us, but his efforts have already seen him get arrested. That time he was lucky, he was freed, but some of his friends weren't so fortunate: they are still in prison. 
After sending his message, Ming turns off his phone and removes the sim card so he can't be tracked. It's dark as he sets off, hoping the night makes it harder for anyone to follow him to the location of 'the old place'.
Persecution from all angles 
It's not just his phone that Ming's worried about. There are one billion surveillance cameras in the world, and half of them are found in China. They are everywhere – in shops, on streetcorners, even in churches. The use of software to track someone's movements and behaviour is increasingly common, so you can see why Ming is nervous when transporting Bibles in his car.
And whilst technology is a problem, Ming knows there are other dangers too. He became a Christian as a student, but when his dad found out, he reported Ming to the police. His dad even stopped him from going to college so he couldn't mix with other Christians. 
Birth of a smuggler
So Ming moved. In a less restrictive town, he found support and encouragement from underground churches. His love and understanding of Jesus grew, but after a while he heard God speaking to him, saying: "Go back to your hometown. Tell people about Me there."
Ming knew it wouldn't be easy, but he moved anyway. He set up a business with friends and used that to cover up his Bible smuggling activities.
The authorities are looking to supress the church, and believers like Ming, who are part of an underground church network, are seen to be especially dangerous. There are even spies who pretend to be Christians so they can uncover these networks and report influential Christians to the police.
Since his arrest, Ming's house is searched regularly by the police. It's likely he's being watched and that his phone is being monitored which makes it hard for him to trust anyone.
But Ming isn't giving up. Despite the tight restrictions he's desperate that others can read God's Word and grow closer to Jesus in their own faith. He knows this is what God has called him to, and as Ming says: "No matter what happens… We listen and follow. He will guide our paths."
Pray this for yourself and Ming now…
Father God, watch over and guide Ming. Keep him safe help him get your Word into the hands of many Chinese Cristians. Watch over and guide me. Help me see where you are leading me, and help me bravely follow you. Amen.
CHOOSE TO LOSE YOUR PHONE
As you've seen from Ming's story, Christians in China have to be careful when using their phones. In March 2022 a new law came into effect banning 'unapproved' Christian content online. That means the majority of Christian websites, podcasts, videos and even social media accounts posting stuff to help people grow with Jesus, have been removed. That even includes Bible apps.
We'd love you to join us standing with our persecuted Christians like Ming, and choose to lose your phone for a whole weekend. We'd love you to shut down your device just like Ming, to go silent online and to raise money and prayer. 
Could you get sponsored to put down your phone, along with your social media, voice and video chat, instant messaging and all other online time for 48 hours to raise money for Christians facing all kinds of restrictions, monitoring and surveillance? Find out more and sign up to get a free fundraising pack here…
A few years ago Baher, a Christian from Egypt, had turned 20 and was trying to run a small business to support his family, since his parents were too ill to work. "I began to transport gravel, sand and other light building supplies," he says. "Yet no one wanted to hire me, and I was rejected." Baher felt shunned, overlooked and despised.
There are two reasons for that rejection. The first? Because he is a Christian.
"Christians here suffer humiliation and oppression." It was clear that people in Baher's community didn't want to hire him because he has chosen to follow Jesus.
The persecution that believers face in his village is sometimes quite subtle, like this refusal to use Christian-owned small businesses. At other times it is much more overt. The homes of Christians have been looted and burned down. A local church leader received death threats when he decided to renovate the church building. The victims of persecution have no legal rights, and they live in a climate of fear. Across Egypt and Muslim-majority countries in the Middle East and North Africa, this is a common story. Christians can be victims of violent attacks – but they can also be ground down by everyday discrimination.
But that wasn't the only reason that Baher's business was scorned: the other was his disability. And even this links back to his faith.
No choice but to work in a dangerous quarry
Baher was only 13 when he started working in the local quarry. Almost all the young Christian men in the village end up working there – since, because of their faith, they aren't offered any better, safer work. He hadn't been working at the quarry for very long when a tragic incident happened.
"We work with old and badly maintained machinery, without safety precautions," says Baher. "It is common for a worker in the quarry to lose a limb." One day, Baher's arm was severed by the quarry's cutting machine. He passed out from the pain, and woke up later in hospital with the prospect of a very different future.
The family faced even worse a few years later. Tragically, Baher's brother was killed at work in the quarry.
"My brother had an electric shock," remembers Baher. "His employer did not want to let him leave the job. But my brother was not able to stand the pain, and his heartbeat accelerated; he could not take a breath. His lungs were filled with the fine dust.
"We tried to save him and rushed him to the closest medical centre. However, the closest hospital was not equipped to deal with emergencies. The doctor brought the stethoscope to examine him but realised that my brother had died. We were unable to determine the exact cause of his death. My heart was torn apart, and I lost all hope in life."
Without hope
So many things in Baher's life came together to make him feel hopeless. The loss of his brother. His disability. The pressure of being sole breadwinner to support his parents, his sisters (who aren't allowed to work in their strict Islamic culture), and his brother's wife and children. The way that he saw Christians being treated all around him. And his story is one that is repeated by many young Christians throughout the Middle East and North Africa.
"Most young people here don't have a bright future and they know that," says Thomas*, Open Doors director for the region. "Most of those who remained have no option. They stay because Europe closed the borders, because they have no money to travel, or they have responsibilities to their parents. We need to invest in those who stay. They need to grow in their faith, to survive hopelessness. The youth is the church of today and the future. If the youth leaves, the church will, humanly speaking, diminish to almost zero."
Baher didn't just feel hopeless in the wake of all these sad events. He felt angry – with God: "I hated myself and I hated God because I thought He was the reason of all that happened to me," he says. "I blamed God. 'Why did you do that to me? I did not do anything wrong! I just wanted to help my family!'"
Meeting an Open Doors partner
Baher was despairing when Fady* visited him. Fady – a local Open Doors partner – remembers that day well.
"Baher looked miserable and anxious," Fady says. "His heart was full of resentment and bitterness towards God. When I entered the room, Baher didn't want to talk with me at first, and it was really challenging to start building a conversation with him.
"Suddenly, Baher exploded with anger, bombarding us with questions: 'Does God exist? Where is God in my life? If God is in control, as you say, and works everything for the good, why has He forsaken me?'"
"That's really horrible," Fady replied. "I understand your feelings, but please, don't lose hope. God is not far away from our troubles. Believe me, God never leaves us because He is our Heavenly Father and the Father never forsakes His children."
Fady also shared the words of Jesus in the Sermon on the Mount, praying that God would use the verse to speak to Baher's troubled heart: "Blessed are you when people insult you, persecute you and falsely say all kinds of evil against you because of me. Rejoice and be glad, because great is your reward in heaven, for in the same way they persecuted the prophets who were before you." (Matthew 5:11-12).
How a microloan project changed Baher's life
This visit was just the first step in the relationship that Fady and his team have with Baher. They are keen to show Baher that he is part of a wider community of Christians who will stand with and support vulnerable believers like him.
"I have seen God's practical love through your love, care and presence."
"We are showing our heavenly Father's love to him and his family in a practical way," shares Fady. "First, we helped him to set up a microproject to start sheep breeding, so that he can have a regular source of income for his family."
Having researched the area, they knew this small business would have a better chance of success – and a microloan from Open Doors partners made it a possibility. Last year, these partners provided 969 microloans in Egypt, each one often supporting entire families of Christians. Baher's sheep business is pictured (right).
"I am blessed with the microproject the ministry provided me," says Baher. "It is now working very well, and I can provide for my parents and for my brother's wife and children. If you had not helped me with it, I would not have had any income."
Alongside this, Fady helped Baher enrol in a local discipleship group where he is deepening his faith and learning more about God, particularly His presence amidst troubles. Last year, almost 270,000 Christians in Egypt were able to enrol on discipleship programmes run by Open Doors partners, thanks to the gifts and prayers of Open Doors supporters.
"My whole family shifted our focus from blaming God to praising Him and now we go to church on a regular basis," says Baher. "I have seen God's practical love through your love, care and presence."
"He is not far away; He is very near to me"
Most of all, Baher knows that God has not abandoned him: "I believe in God's sovereignty, and that He is not far away in the sky, but He is very near to me. When I was searching for my own solutions, God was preparing and making a way to reach out to me through your ministry team."
It's clear that Baher's life is being transformed. He is able to raise money for his family through a much safer job, he knows he is not alone, and he knows God's closeness. "If you had not backed me, I would not have changed," he says. "You lifted my morale and helped me to restore my relationship with God.
The Eastern part of the Democratic Republic of Congo is a dangerous place for Christians. Stephanie* was 18 years old when members of the ADF, an Islamist extremist group, targeted her town. After five months in captivity, she escaped and walked to freedom. Although she is still recovering from her ordeal, she can still see God's provision in her life.
Blessed are the risk-takers,
The rebels and the rule-breakers.
Blessed are the grieving and the broken,
Blessed are the brave and the outspoken.
One of the riskiest things you can do is to choose to follow Jesus. You might have heard that in a talk – and it's true. Jesus calls us to deny ourselves, to lay down our self-interest, to serve and bless others, showing them God's love and hope.
That's risky. But there's another level to the risks – following Jesus can truly cost everything.
Today, 360 million Christians around the world are risking it all, simply for choosing Jesus: brave risk-takers who face violence, exclusion, rejection, insults, prison – and sometimes even death – just because they believe in Him.
Jesus says, 'Blessed are the persecuted' (Matthew 5:10).
Watch this new spoken word film with Joshua Luke Smith (words by Nick Page) to be inspired to take more risks in your walk with Jesus.
This film contains footage of real persecution and re-enacted scenes of persecution based on true stories that some may find distressing.
DID YOU KNOW IT WAS ONCE ILLEGAL TO READ THE BIBLE IN ENGLISH?
William Tyndale was a linguist who believed that everyone should be able to read the Bible in their own language. However, under a 1408 law, translating the Bible into English was illegal.
Tyndale escaped to Germany where he translated the first ever copy of the English New Testament. He smuggled 1800 English Bibles across the channel into England, and believers held secret meetings in their homes to read the Bible in their own language for the first time.
Tyndale was arrested, but after a year of torture, he refused to recant. He was burnt at the stake. His final words were a prayer, 'God, open the eyes of the king of England.'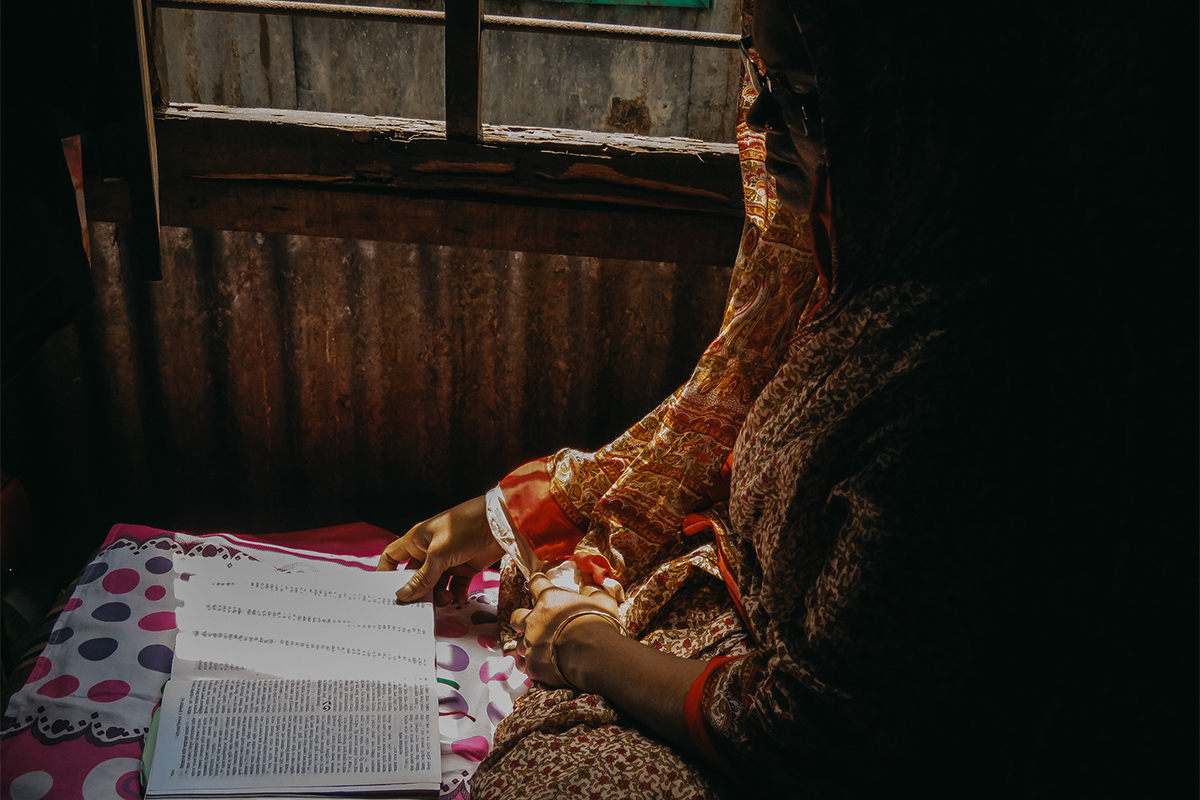 His prayer was answered. Several years later, the king recanted. Henry the Eighth allowed the Bible to be translated into English for the first time in history.
What is it about this library of Scripture that meant some of the greatest luminaries of history, across culture and time, were willing to suffer and die to ensure you had access?
THE WORD OF GOD IS ALIVE AND ACTIVE
It is a light in the darkness and hope for generations. It challenges the authority of kings and upends the empires of the world. It brings hope to the hopeless and good news to the poor.
Today, while we open English Bibles in many translations, on our phones, in church, on our bedside table, or audio-Bibles, there are thousands of believers still on the other side of history, where possessing a Bible in their own language could lead to severe persecution. This means they face harassment, abuse, imprisonment, torture, or even death, simply for their decision to follow Jesus.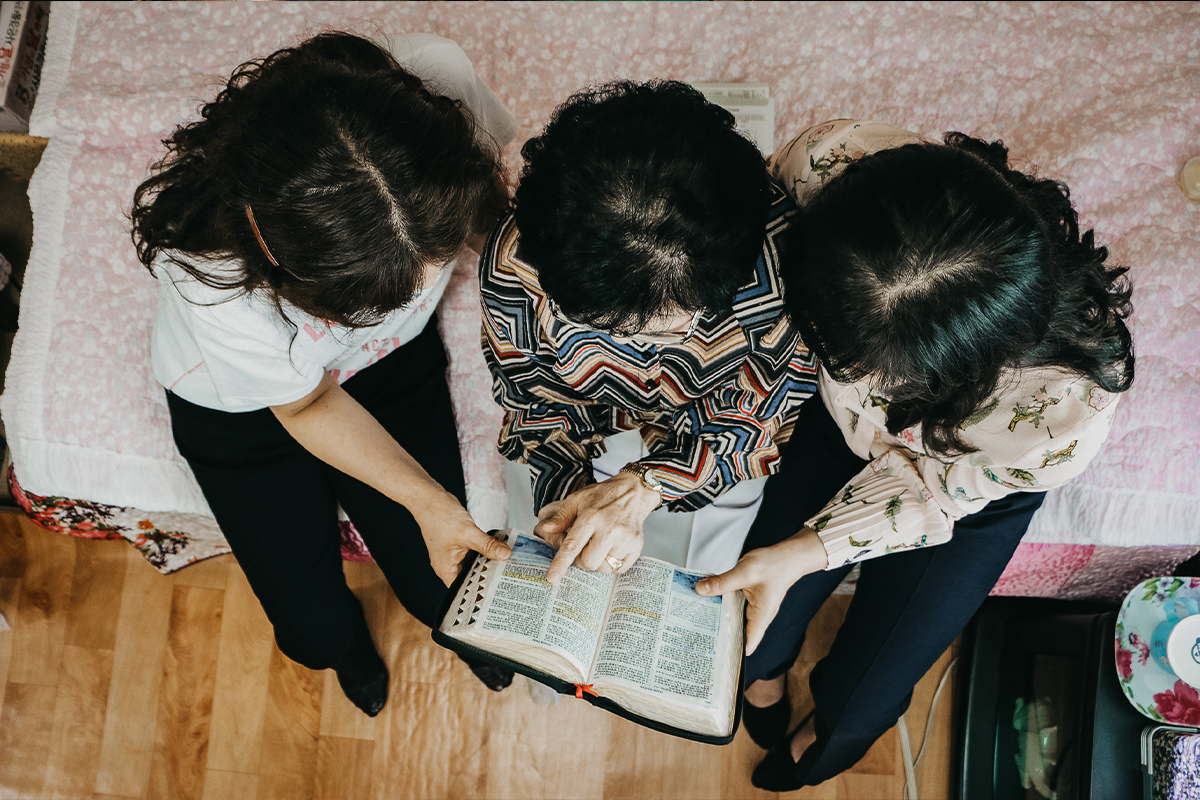 THE BIBLE IS STILL ON THE BANNED BOOK LIST IN 52 COUNTRIES.
Where is the Bible illegal? For believers in countries like North Korea, Afghanistan, or Somalia, just possessing a copy of the Bible could be a death sentence.
These believers may share one Bible between a whole church community, travel great distances to find a copy, or sit huddled in underground meetings, whispering passages of the Bible in the secret of their homes.
At Open Doors, we, like William Tyndale, believe that every believer should have access to the word of God. Open Doors started with smuggling Bibles into Communist Eastern Europe, and we continue to distribute Bibles today.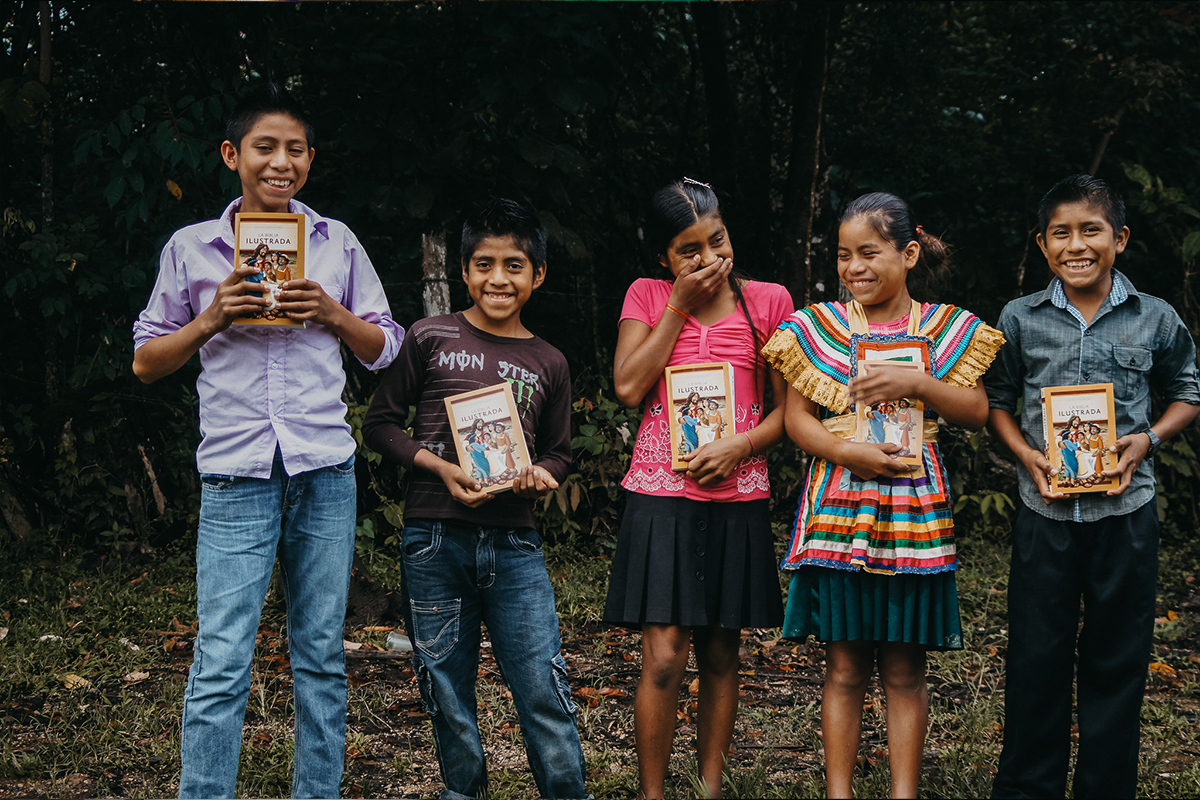 A Q&A with Brother Simon
Brother Simon has been Open Doors' coordinator for North Korea ministry for almost 30 years. We cannot reveal his real name because of the huge risks involved in his work – in fact, secret agents have even attempted to capture him. We sat down with Brother Simon to discuss developments in the country that's once again number one on the World Watch List.
Due to the pandemic, North Korea shut its borders, making it even harder to get information from the country. What's the situation been in the country between 2020 and now?
It's been very difficult for the people. One major change was that, in early 2020, North Korea announced a new law, called the 'DPRK Law on rejecting reactionary ideology and culture'. This basically punishes the possession and use of foreign propaganda and materials that are anti-North Korean culture. Think of South Korean pop music and dramas.
Image: North Korean civilians working at border fence on the bank of the Yalu River, the border between China and North Korea.
Reading and possessing the Bible have been illegal for years, and punishment is very heavy.
But this was forbidden already, wasn't it?
Yes, but before the law was published, the punishment was usually light. People could even escape punishment if they bribed officials. Now punishment is much harsher.
What's the impact of this law on Christians?
Reading and possessing the Bible have been illegal for years, and punishment is very heavy. At the very least you'll be tortured in prison for months. Then you'll be sent to a re-education camp or camp for political prisoners. It's possible to survive a re-education camp and be released after several years. Prisoners are never released from a political prison camp. Most Christians end up in the political camps.
What's interesting about the law is that it makes explicit mention of the Bible. It's called an illegal book, and possessing it is punishable with ten years correctional labour and even death if you import a lot of material. This illustrates Kim Jong-un's aversion against Christians. The North Korean state sees them as a huge threat.

Image: Statues of the Kim family in North Korea
Why are Christians considered to be dangerous?
They are patriots who love their country. But they don't see Kim Jong-un as a god. Anyone who doesn't is a traitor in the eyes of the state. I cannot share details, but we have learned that a high number of Christians have been killed for the faith.
Since the Second World War, North Korea has fiercely persecuted Christians. This intensified after the Korean War between 1950 and 1953. How has the church survived?
It's by God's grace that the church has survived. The Christians also take a lot of measures to protect themselves. It's rare that people meet with other Christians, except if it's a family gathering. Even then, usually the children are sent outside to keep watch. They talk and sing softly. Bibles are usually hidden. In recent years, Christians also rely more on digital materials to give themselves spiritual food. If you read a book and you get close enough, you can see what someone's reading. But if they see you with headphones, it's impossible to tell what you're listening to.
In the past, you've also said that Christian parents often don't tell their children about their faith.
Indeed. It's highly dangerous. If they quote a Bible verse or story at school, or hum a Christian song, the whole family could be in trouble. That's why the parents usually wait until the children are old enough.
God does a lot of signs and wonders in North Korea. Especially healings, because so many people suffer from malnutrition and diseases.
Is there anything the parents can do before they are old enough to keep the family secret?
They can teach their children Christian values by sharing stories with them that don't mention the Bible, Jesus, God, the Holy Spirit or any Christian terms. Or they talk about creation but, again, without mentioning God. Once the kids are old enough, the parents can teach them it was actually God who created the heavens and the earth. Then they can talk about how God came down, became human and saved us.
If it's so dangerous to talk about faith, even to your children, how do people come to faith in North Korea?
God does a lot of signs and wonders in North Korea. Especially healings, because so many people suffer from malnutrition and diseases. The water supply in North Korea is usually filthy. Most people cannot afford to buy bottled water. A lot of people, and certainly children, fall seriously ill. Christians may help the sick people and pray for them. A lot are healed and, through their healing, experience the supernatural love of God. That means they are usually ready to hear the gospel. The Christians expose them to the good news and their faith grows gradually from that moment onwards. This isn't just with adults; it happens with older children, too.
What do you expect of 2023?
We pray that the borders will open, and that more North Korean people can come to China, so that we can reach them through our networks. They are in dire need of food, medicines, clothes and spiritual materials.

Image: Propaganda in North Korea
How else are you going to help North Korean Christians?
We operate safe houses in China. In 2022, we were able to help more than a thousand people through them. We've also supported and trained about a hundred North Korean women who have forcibly been married to Chinese men. Some of them will be female leaders in the future North Korean church. Our radio ministry continues to grow. We have two programmes specifically for Christian parents to educate them how they can give their children Christian teachings without mentioning Christian terms. Our radio crew also produces programmes with sermons, Bible seminary materials and a programme where North Korean refugees discuss various topics.
How can we pray for your ministry?
Let's start with thanking the Lord for His provision and blessings. It's a miracle that we could support North Korean Christians last year. Then, please pray that God will open doors for us to stay connected with the North Korean underground church and that we can help them. Pray for protection of our team and contacts. Also ask the Lord that He will make seeing eyes blind. In other words, that Christians won't be caught by the authorities. Pray also that the country will experience more freedom and prosperity in 2023, so that life will be less hard for the citizens.
"I live in permanent fear," says Fati (not her real name), a young mother and wife. "Whenever I hear a gunshot, I get scared, and I think they are back to kill us all."
Living in fear is a daily reality for believers like Fati in Burkina Faso, where Islamic militants have driven more than two million people from their homes since the insurgency in Mali began spilling over in 2016.
The attacks don't stop
Fati remembers the first time the militants attacked her Christian village. They spent the day firing their weapons, before leaving and returning three days later. "This time, they went through the entire village shooting at everything and everyone," she recalls. "They set fire to the marketplace, set fire to people's houses, their possessions and their animals. The cattle and flocks were doused in petrol and burned alive. Those who were able to run hid themselves, but many people were burned alive in their houses."
After a third attack, locals began taking supplies to a nearby village, in case they had to flee – but the militants caught wind of their plan. "The terrorists then placed explosives along the road to stop the displaced people from reaching safety," shares Fati.
The attacks on Fati's village continued with increasing devastation, including one occasion when Fati was in a nearby village dropping off supplies whilst her husband and children were at home attending a prayer meeting. Learning of the attack, Fati ran home fearing the worst. "When I got to the village, I couldn't find the children or my husband. I finally found them hiding in nearby bush."
"God will be with us no matter what"
The family fled to the nearby village before heading to the capital, Ouagadougou. "On our way to the city, the few things that I was able to save from home were stolen," continues Fati. "We were empty-handed, and we didn't have any food or housing."
When they arrived in Ouagadougou, Fati and her family found support from the local church. "When we came here, the church received us with love," she says. "They cried with us and they comforted us. They helped us with money and food and also comforted us with the Word of God."
Through the upheaval, trauma and loss, the family know that they've never been alone. "The Bible says that we will face trials in this world. But He says He will make a way for us. We believe these words written in the Bible. And this gives us life. It strengthens our faith and brings joy into our lives. When I think God has forsaken us, I remember His words in the Bible. He tells us that He will be with us no matter what.
"I'd like to thank all those who supported us in prayer," adds Fati. "You helped us to carry our burden. God has answered your prayers. He saved us from hardship, problems and temptations."
The World Cup is underway, featuring two nations on the Arabian Peninsula that are on the World Watch List – Saudi Arabia and host nation Qatar. Living as a Christian on the Arabian Peninsula can be dangerous. But it's not stopping thousands of people having online conversations about Jesus with an Open Doors team, which is leading to some 200 face-to-face conversations each year. And it all begins with Google.
Online opportunities
"On the Arabian Peninsula, a person who is searching to know more about the Christian faith cannot enter a church," says Daniel*, who is helping lead this ministry. "In Saudi Arabia, there are no churches. In the other countries, the churches are only accessible to foreigners. For example, in Qatar or in the United Arab Emirates, every person who enters the church compound is checked, and only foreigners are allowed in."
Given that many Christians on the Arabian Peninsula are secret believers, finding someone to ask about Jesus is difficult and risky.
"When a Christian ex-pat living in one of the countries on the Arabian Peninsula wanted to meet with a seeker, or even a new believer, in the era before the internet and social media, he would try to meet with people face-to-face in coffee shops and cafés. But that was very risky; ex-pats were kicked out of countries as soon as their activities were discovered."
But following the Arab Spring just over ten years ago, access to the internet and mobile phones grew, and this presented a new opportunity.
"Our focus turned to using the internet to connect with searchers," says Daniel. "The internet is anonymous, although governments on the Arabian Peninsula are monitoring what people do on social media."
"Who is Jesus?"
But there was another challenge. When seekers ask questions – such as "Who is Jesus" or "Do Christians believe in three Gods?" – the first websites to appear aren't always the most helpful for those seeking or are new to faith. The Open Doors team began work on creating content – including videos, animations and frequently asked questions – that would appear prominently on searches.
According to Daniel, 'tens of thousands' of people ask such questions every year, thousands of which lead to online conversations with a member of a follow-up team. This is resulting in some 200 face-to-face meetings each year.
It may sound like a low number, but Daniel has a different take on it. "This is so much more than before the internet when foreigners on the Peninsula would go to coffee shops to get in contact with random people and start a conversation hoping to meet a seeker. That didn't lead to so many good conversations as we have nowadays.
"When a person really is interested, we arrange such a meeting within 12 to 24 hours after the online meeting. Open Doors makes those face-to-face meetings possible. The situation on the Arabian Peninsula is different from the West. Sometimes a woman must take a taxi and drive for an hour to get to a place where she can meet someone safely. Sometimes the seekers don't have the money to sit in a coffee shop to have a conversation."
Brave encounters
Unsurprisingly, the face-to-face meetings are the trickiest – and riskiest – part of the journey, particularly for native seekers. To help address this, the Open Doors team will often send a local and a foreigner to a meeting, because the seeker is more likely to trust the latter. But it's not just those searching that take a risk when having a meeting. "Sometimes the seeker can be a person who pretends to be a seeker," says Daniel.
This ministry has already to led people encountering Jesus. You can help not only by praying, but by clicking some of the below links, because the more they're used the greater chance they will appear higher on people's searches and therefore deemed a reliable source of information. Thank you for your prayers and support for our brothers and sisters on the Arabian Peninsula!
1. Home page (website name means "Growing in Christ" and is for seekers and disciples of Jesus)
https://annamu-fi-almassih.com
2. Questions (think gotquestions.com)
https://annamu-fi-almassih.com/الأسئلة/
3. Articles (think desiringgod.com)
https://annamu-fi-almassih.com/مقالات/
4. Verses
https://annamu-fi-almassih.com/آيات/
5. Basics about Christianity (common misconceptions, what is the Bible, who is the Christian God, etc)
https://annamu-fi-almassih.com/الأساسيات-ف-المسيحية
*Name changed for security reasons
Read: Genesis 42:29-36
"When they came to their father Jacob in the land of Canaan, they told him all that had happened to them. They said, 'The man who is lord over the land spoke harshly to us and treated us as though we were spying on the land. But we said to him, "We are honest men; we are not spies. We were twelve brothers, sons of one father. One is no more, and the youngest is now with our father in Canaan."
"'Then the man who is lord over the land said to us, "This is how I will know whether you are honest men: Leave one of your brothers here with me, and take food for your starving households and go. But bring your youngest brother to me so I will know that you are not spies but honest men. Then I will give your brother back to you, and you can trade in the land."'
"As they were emptying their sacks, there in each man's sack was his pouch of silver! When they and their father saw the money pouches, they were frightened. Their father Jacob said to them, 'You have deprived me of my children. Joseph is no more and Simeon is no more, and now you want to take Benjamin. Everything is against me!'"
Ibrahim's reflections
On 2 February, my friend Samih and his wife Maria had a new-born child, Ralph. 96 hours after delivering Ralph, the earthquake hit. No electricity, a mother of two sons in pain, a house on the fifth floor, shaking heavily, Maria had to go down five floors in the freezing cold to be safe. She slept in the car with her Ralph.
For years Maria and Samih could barely afford to cover their expenses. Samih always said to me that, despite all the challenges, he still feels he is here in Syria for a purpose. He is a great believer.
Now after what happened, the family is fighting more than ever to leave the country! He told me yesterday: we are really desperate to leave.

Image: Pastor Ibrahim in his church
Christians desperate to leave
Even before the earthquake, these words are not unfamiliar to my ears. I got used to hearing such decisions from the people around me. Almost every Christian wants to leave the country. And for me it just feels awful.
However, what really struck me is not this friend's determination to leave, but what he said later. He said that this country is no longer a home for his children. That he can't see any signs of a secure and decent future for them as a Christian family living in the Middle East.
And to be frank with you, indeed, for us as Syrian Christians, everything looks bleak and hopeless.
Changes are taking place, and it always looks like it's happening against us as the people of God. We see more manifestations of Islamic fanaticism, more terroristic threats, and more economic crises and even devastating earthquakes. We see civil wars, coups and political changes. And in everything happening, we see how Christians are negatively affected more than any other group.
The Bible says that all things work together for good. And again, frankly speaking, we can't perceive any good in what is happening. We can't see any good in Taliban overrunning Afghanistan. And we can't see any good in hundreds of thousands of Christians leaving my country. I think of my city Aleppo. From two hundred thousand Christians to fewer than thirty thousand.
Give now…
A gift of whatever you can afford, could help to provide urgent relief, including food and blankets, for a persecuted Christian in the region affected by the earthquake.

Jacob's grief
In the passage we read, we see Jacob receiving the news of his son Simeon being kept by the rulers of Egypt. And the condition set for releasing Simeon, is to risk another son, Benjamin. And we all know the deep love and affection that Jacob had for his youngest beloved Benjamin.
After the sacks were emptied, and the money bundles were found, Jacob would have surely expected that Simeon's fate is at stake. He shouts these words: "You have deprived me of my children. Joseph is no more and Simeon is no more, and now you want to take Benjamin."
Jacob became a bereaved father. He is not only admitting the death of Joseph, but he is also declaring the death penalty on Simeon. Jacob reaches the culmination of his lamenting words by saying: "Everything is against me."
I believe that as Middle Eastern Christians we are now in the very part of the story where Jacob is. The same lament Jacob expressed is adopted by us nowadays. Everything is against us.

Image: Pastor Ibrahim's church
Examining Jacob's lament
But I would like us to examine this lament closely. Joseph is no more. This is what Jacob said. Was this claim true? Of course, the truth is that Joseph was not dead. And not only that, but he was also one of the most powerful people in the whole region.
Simeon is no more. Simeon, who was also considered dead by Jacob, was not in any danger. He was rather in the safest place in the whole world. He was at his brother's place. And not only that, while Jacob and his sons were barely eating, Simeon was living in abundance.
Everything is against me. For Jacob, this was the end of the story. A bereaved father who lost two sons and is about to lose the third. A currently hopeless father who is destined to more hopelessness in the future. For him, everything is, and would, be against him.
But as we know from the rest of the story, Jacob was completely mistaken. What we would discover later from the story is that all that happened was not against Jacob, but rather for the sake of Jacob.
"We have no other choice than to be armed with hope."
Syrian Christians are the 'Jacobs' of today
Jacob, it is not true that everything is against you. The truth is that everything is for you. You are the blessed one in this story. I can't help but see the similarities between what is happening now and what had happened with Jacob. And this is very reassuring to me, personally, to remember that everything happening now is happening for our sake, the people of God. That our lament is as wrong as Jacob's.
Maybe I can't understand now how God is busy working on a great ending for our story. But I am sure that I am now as blind as Jacob was, and that sooner or later I will look back at the sequence of events of our story and realise that everything that happened was designed by God to glorify His name and to bless His church in the Middle East.
We have no other choice than to be armed with the hope that the God who blessed Jacob and designed everything to save Jacob's family from the famine, will also design everything to bless His children in the Middle East. No doubt, it is very difficult to spread this hope and this belief to the Christians living in the region – but this is the core of our calling: to encourage Christians not to lose hope and to remember that our God is in control of everything happening around us.
I believe that in the near future, or maybe in the far future, facts will unfold and be revealed to us. And only then will we realise how, along the way, we failed to understand the unfathomable wisdom of God.